When it came time to add a new dimension to my web site, Santa Maria Style cooking was the most logical option for me. I have the wood fired slow cooker and Pellet cooking styles nailed down. For a new cooking style I wanted to grill over a real hardwood fire not charcoal briquettes. I wanted a cooker that was simple to operate and adjust so I could spend less time dealing with the cooker and more time perfecting my food preparation and recipes. What intrigued me the most was instead of adjusting the fire grate like allot of conventional cookers the Santa Maria style cooker has a adjustable cooking grate with a long range of adjustment. You can literally raise the cooking grate high enough to avoid cooking. This comes in handy to stage your food and have it all in place and then lower it to desired cooking height.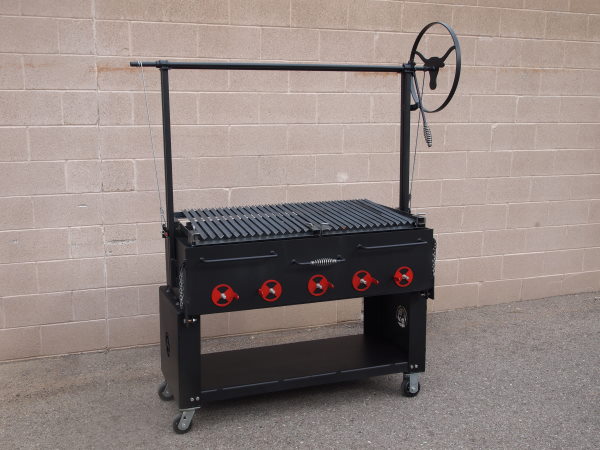 My next dilemma was finding a Santa Maria style cooker that had the options I wanted with exceptional build quality. After two months of researching these cookers and their manufactures, I kept coming back to the Arizona BBQ Outfitters web site. Their cooker was constructed of 3/16" steel while others were 10 gauge and thinner. High heat and thinner metal have proven to be a lesser desirable duo in my opinion. Ease of access to the firebox via the drop down front panel was definitely a welcome touch. When it comes to food quality and health, the Argentine grates are just the right grate to cook on. They channel the fat away from the meat and the fire into grease trays located under the front of the grates. This keeps the majority of the grease from dripping onto the open flames below. Here's why, HCAs and PAHs are formed mostly from fat. Either by fat being heated to extreme temperatures or by the smoke created by fat burning. For the most part this applies to meat fats and not just the grease and fat from what you are cooking but the build up from the bottom of your grill. Reduce the amount of fat and grease hitting the flames and you reduce health risks as well as increase flavor of the food.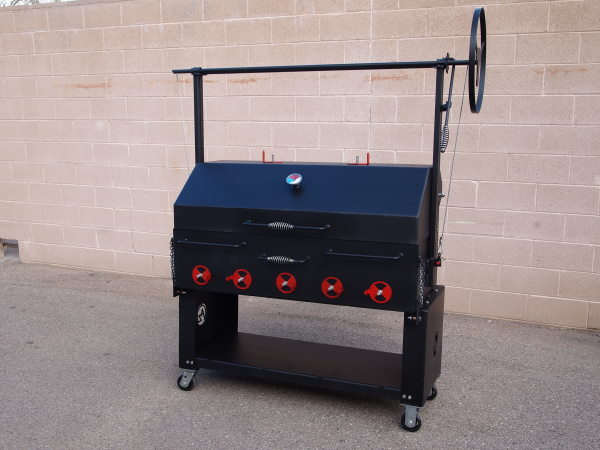 Think about this... We have all seen grills loaded with burgers smoking away. As the fat starts dripping at a higher rate the smoke increases as well as flare-ups. I for one hate burgers that have that smoke from burned fat flavor to them. I prefer a wood smoke flavor and that is exactly why up until now most of my cooking has been low and slow. The Santa Maria style cooker fitted with the Argentine grates is a great answer to the food quality & health issues.
With all this said it soon came down to the company and the man behind it. Quality is key but great service is just as important. This is where I end up spending some time talking to the owners. I like to get a gut feel about those I deal with. A good gut feeling that is. I have had other cookers show up on my deck and ended up leaving within weeks as long as 8 months. If they don't cut the mustard for me they won't have a spot on my deck. Those that do, end up with a spot on my deck or patio and a spot in my heart. I love a quality cooker, what can I say?
The Owner & Company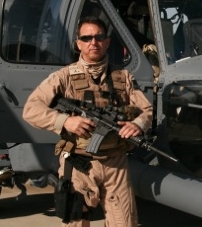 Arizona BBQ Outfitters is owned and operated by David Gonzales who started the company two years ago. David started the company after searching for a heavy duty quality grill that met his needs and walking away dissatisfied with what was out there. David decided to build his own and the company was born, David is also a veteran with 24 years of service to our country who still currently fly's with the USAF Reserves as a Combat Search and Rescue Pilot based out of Davis Monthan Air Force Base Tucson, Arizona. Like many of us he enjoys a good BBQ and cooking on equipment that is well made and made in the USA. All this information is available on David's site. Since I have a great respect and appreciation for our veterans, who fight for or have fought for our freedoms, I would like nothing more then to see him succeed in his company and feel honored to make his cooker a part of SmokingPit.com. Now lets dive into the meat and potatoes if this review.
The Product
Build Quality
The build quality is exceptional. This pit is constructed of 3/16" steel and is very heavy. However, with the large casters its very easy to move around on a hard surface. You won't get very far in moist grass so keep that in mind. The welds are very well done as is the grate construction. The grates feel like commercial quality. The lid is rock sold and heavy but not to heavy to manage. The cart it's perched on is constructed of 10 gauge steel. It's plenty sturdy to hold the Scottsdale and when I was moving it around there was no wobble at all. It was rock solid like the ret of the pit. I spent some time playing around with the grate system. I was able to feel a little chatter when lowering the grate but this is a very minor thing. No problems with the paint. Once I got it hot for a couple hours the paint cured as it should. Another thing I look for is sharp edges. I couldn't find any sharp edges which means time was taken to de-bur and smooth the edges for safety. The spring loaded vents are a great idea. They can be adjusted very easily if need be. Mine were perfect as they came. I like this idea much better then just screwing in on a lock nut to apply slight drag.
I'll add more to this section as I use the pit more.
Specification's
Fabricated from 3/16 Steel Plate
Fire Box measures 12 Inches Deep
Center Creased with 1 inch drain for easy cleaning / draining
Fire Box Vented with Sliding Air Vent
Grill Grates framed with 1.25 x 1.25 x 3/16 Angle Iron
Cooking Grates 3/4 x 9 gage Expanded Metal
24x36 Grill Grate - Cooking Surface 20 x 32
24x48 Grill Grate - Cooking Surface 20 x 42
Grill comes with two fixed wheels
Weight is 350 - 540 lbs. depending on size and options
Options
Heavy Duty Caster upgrade (Casters are rated at 400 pound each, grease fitting, precession bearings, cast iron wheels )
Fire Box measures 12 Inches Deep
1 inch drain for easy cleaning / draining
Drop Down Front Face Fire Box Vented with 5 Spring Loaded Round Vents
Lid (fabricated from 3/16 Steel Plate) - Optional
2 Spring Loaded Vents on Lid
Lower Shelf ( 3/4 x 9 gauge expanded metal perfect for storing charcoal and other items)
Wind Break / Guard - Optional
Cooking Grates
3/4 x 9 Gauge Expanded Metal Standard Grates
Argentine Grate with Grease Trough - Optional
2436-Grill Grate Cooking Surface 22 x 35
2448-Grill Grate Cooking Surface 22 x 45
Commercial Grade Grates ( Extreme Heavy Duty )
Cast Iron Skillet - Optional
Cast Iron Wok - Optional
Cast Iron Griddle - Optional
Pricing by Available Sizes

24" x 36"
24" x 48"

Prices vary due to available options and are subject to change so please
visit Manufacture site for current pricing. Web Site

Ease of Use

The Scottsdale is very easy to operate and you will quickly figure out it doesn't require allot of fuel to reach BBQ temps especially when the lid is down. Due to the lid configuration if that's what you chose, you do have to make sure the grate is not raised above the top of the firebox. There is a groove in each side of the lid so that the grate can be raised an additional 6" when the lid is closed. If the grate is positioned above the firebox it simply will not close. Once closed, if you raise the position of the grate above the firebox, it will not open. This is easy to figure out and adjust for. It didn't take me long to adjust for this and things to become automatic. Keep in mind this is first and fore most a Santa Maria style grill. The wind break, lid, wok, skillet etc. are for added functionality and versatility. With this comes a few simple things to learn when using them. After my initial burn in (see video), seasoning followed by a Flat Iron Steak rubbed down with Tatonka Dust and cooked over an oak wood fire, I was pleasantly surprised. In short... "Oh Yeah Baby!"
Initial Observations
During my initial burn it was clear that the metal is thick and this pit retains heat very well. With the lid down maintaining a temp lower then 300 degrees is a bit difficult with hot coals under the cook area. In the future I will attempt a low and slow indirect cook by building a small fire on either side and placing my foods on the opposite side. This said, I can already tell you this will be a killer pizza cooker as with the amount of fuel I started with the cooker reached 600 degrees at the grate with the lid down. There is no doubt in my mind it will reach 700 degrees. Have you eaten pizza from those high temp fancy wood fired brick oven eateries? 700 degrees on average and some go as high as 1,000 degrees. Oh man does the pizza taste good. This is a test I will have to perform going forward.
Cooking & Food Quality
This is a Santa Maria Style pit first and foremost. What this means is it's primary function is grilling over a wood fire. This in itself is a bit restrictive in the grand scheme of cooking things. Quick change grate configurations and the hood greatly expand cooking functionality and styles.
Cooking Functionality
Grilling on Standard Grates (Sausage, Burgers, Hot Dogs, Veggies etc.)
Grilling on Argentine Style Grates (Roasts, Tri Tip, Steaks, Lamb, Pork, Fish, Lobster etc.)
Cast Iron Cooking (Skillet, Griddle and Wok Cooking for Sauté, Stir Fry, Breakfast Dishes, Seared Meats etc.)
Indirect high temp baking (Pizza, Calzones etc.)
Indirect Baking (Beans, Lasagna, Casseroles, Whole Chickens, Whole Turkeys, Deserts, Cakes, Breads, etc.)
Indirect low & slow BBQ (All Meats) - Requires a small fire.
Note: Cooking Santa Maria style is very forgiving as you have the long range of grate adjustment to account for temperature requirements. With the hood down you will rely on your ability to maintain an efficient fire that has the correct amount of air and fuel to produce the require temperature. This is something that one learns over time. Don't be discouraged if you end up too hot. Let the fire burn down and the pit to cool then add a small amount of fuel until you hit the temperature range you want. Over time this will be come second nature.
| | |
| --- | --- |
| | |
Cooking with the Lodge Cast Iron Skillet
For more first web site cook I went for Cajun Shrimp & Bay Scallops, mushrooms, green onion, garlic & bacon stuffed inside a nice Tri Tip. I chose this recipe for two reasons. It was my 100th cook on my site and I wanted to test the versatility of the Scottsdale. Arizona BBQ Outfitters supplied me with all the accessories and I want to give all features and functionality a thorough test. The skillet shipped is a Lodge Cast Iron pre seasoned skillet. With my fire built of oak lump charcoal, I placed the skillet in the grate frame. I simply placed my heat probe in the center of the cast iron skillet and lowered the grate down about 6 inches off the fire. My target temp was 375 degrees for
Sautéing
with butter. Too much higher you risk burning the butter. I found achieving the desired temp was quite easy. When it reached 250 degrees I raised the grate about 6 inches. I over shot to 425 so I took it to the top and let it cool to 360 then slowly lowered it until I had 380 degrees. Didn't take but 15 minutes to get to where I wanted to be. Next time will go even faster. I was really impressed by how great the cooking with black iron went. I really enjoyed it. Once the seafood was cooked I put on two sticks of oak and let them burn down. I stuffed the Tri Tip and when the coals were good I cooked the Tri Tip. Outside of a problem with my thermometer the cook went great. I really like the range of adjustability in the grate system. In the following video you will see me cooking with the Lodge Cast Iron Skillet. The results were amazing and I really enjoyed this cook.
| | |
| --- | --- |
| | |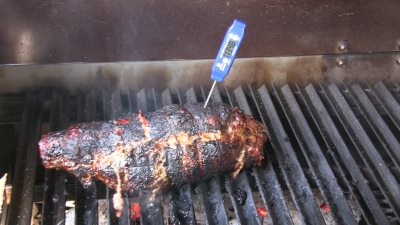 Cooking with the Lodge Cast Iron Wok
Believe it or not... This cooker will accept the 14" Lodge Cast Iron Wok. The Wok rests on the grate frame via its handles. No worries I found it very stable without any movement due to it's weight. Tw Wok can be purchased from Arizona BBQ Outfitters when you purchase the Scottsdale. I can't tell you how much I enjoy cooking on cast iron. The fact that it can be done on this cooker is a big perk in my opinion. Cast Iron evenly heats and is a great conductor of heat. I had no problem achieving just over 5oo degrees for a nice Wok cook in my last test. Actually I did one better. I cooked Sesame Soy beef on the left side and at the same time a spicy shrimp stir fry with some amazing vegetables. I pulled the beef and the stir fry off at the same time and it was top notch cuisine to say the least. I have to say not only was I impressed but I actual had a blast doing the stir fry. I have never done stir fry on a wood pit and the results were amazing. Almost like I knew what I was doing. That said I did ample research on Wok cooking and once I had the proffered cooking temp I used my laser thermometer to accurately measure the Wok temp. It's critical the Wok gets hot enough to flash cook the stri fry for best results. Take a look at my recipe video for this cook. I had a blast with this cook.
| | |
| --- | --- |
| | |
| | |
Baking/Roasting Chicken @ 300° - 350°
Chicken has been a challenge for many. We all want that signature smoke flavor and at the same time, most prefer a crispy skin. Cooking chicken low and slow just does not produce both attributes. You get the smoke flavor but the skin can be rubbery in texture. Because of this competitions BBQ teams cook their briskets and ribs low and slow and when it comes to chicken, they for the most part, cook at a higher temp. These temps may Start as low as 275° but are more common between 300° and 350°. Since I'm testing all aspects of the Scottsdale cooker, I was excited to do chicken in the 300° to 350° range. Keep in mind I have only a hand full of cooks on this pit. This was my first attempt at chicken and my first attempt at guessing the amount of fuel & air etc. All that said, the cook went without a hitch. To be honest I built a fire which over shot by 50°. I let it burn down to 320° and put the chicken on the grates. I was so confident of this cookers ability that I not only tested on this cook, I shot a BBQ video recipe at the same time. I went with two whole chickens soaked in a Orange Juice, Soy Sauce, Honey, Rosemary, Garlic & Ginger marinade. After 1 hour in I placed the Maverick ET-732 probes into the chickens. The target temp alarm (169°) sounded 1 hour 20 minutes into the cook. As I approached the cooker to open the door I thought to myself, "Ok, let's see if I nailed the crispy skin". When I opened the door I was grinning ear to ear. I could immediately tell by the color that I had a decent amount of smoke flavor on the birds. During the cook I monitored the color of the smoked exiting the Scottsdale upper vents and at all times I had a nice thin blue smoke. The flavor of the chicken was amazing. The BBQ recipe video was published on my site and this test and the recipe video were a complete success. The video below is the Orange Chicken & Garlic Red Potatoes recipe from this cook.
| | |
| --- | --- |
| | |
High Temp Indirect Cooking

High temp indirect cooking is a definite challenge for allot of the pits sold on the market today. When I say high temp I'm talking temps of 450 - 600 degrees. You may just make the 450 degree mark but going further is a challenge on allot of the cookers. The Green Egg and like ceramic cooker however handle this well and achieve cooking temps of 700 plus. When the Scottsdale first arrived I thought wow... This is a heavy thick steeled skinned cooker and although it's primary purpose is a Santa Maria style grilling machine, it probably wouldn't achieve higher temps for indirect cooking for say, Pizza. I was wrong in a big way. When I did the burn in and seasoning the first thing I noticed was that this pit, with the hood down, didn't require allot of wood fuel to achieve higher temps. This put a very big grin on my face. :-) That said, I set out to cook two wood fire cooked pizzas. I have never cooked on this pit but two times and both were with the hood up Santa Maria style. The amount of fuel used was my best guess and I couldn't have been more pleased. I put down a small amount of oak lump charcoal, built the fire and got the lump hot. Then I put on two sticks of oak wood. Once they were burning hot and clean the pit was at 487 degrees center grate on the right side of the pit opposite the fire. The pizza went on and what surprised me was 14 minutes in, I opened the lid to rotate the pizza but it was evenly cooked. Bonus! After 21 minutes the pizza was cooked and I served it to my family. The pizza did not last long at all. It was gobbled up because it was that good! A few observations I had was that I could have used twice the lump and stuck with the two sticks of oak and probably achieved 600 degrees for high temp pizza cooking. I could have utilized a pizza stone as well. I broke my pizza stone a while back and all I had was a air bake cookie sheet which will not produce the crispy crust most like. Regardless I had a cooked crust, be it soft, and amazing flavor. This pit also allows you to raise the grate, with the hood down, up into the higher temps in the hood. I could have also moved some hot coals under the baking sheet to obtain a crisper under crust. These are all things I will try in the future because I feel this cooker has great pizza cooking potential to say the least. The thing I walked away with was that this was a stab in the dark. I never cooked pizza before on this cooker, let alone have I become acclimated to it's cooking capabilities. All this said, it was easy to produce great results. Will I improve on the results? Hell Yes! I will perfect them to say the least. The Scottsdale is now my go to pizza cooker hands down!

Grilling Santa Maria Style

Grilling over a wood fire is what this pit does best. Due to the design of the long range adjustable grate system, achieving the correct grate temperature is a no brainer. The flexibility of switching out the grilling grates for a cast iron skillet or wok and then back again only enhances the cooking experience and quality of the foods you produce. The following video is a demonstration of sautéing

in the cast iron skillet to take grilled ground beef burgers to the gourmet level.

What can you expect out of your Scottsdale?

Once you get dialed into cooking on the Scottsdale you can expect consistent results and great tasting food. This pit is very forgiving but remember allot of the quality will come from your abilities and knowledge as well. If you are new to this please read my recipes I cook on the Scottsdale, as I provide tips on temps, use and techniques that will help you expend your cooking horizons. I mentioned that the Scottsdale is very forgiving. When cooking on the Scottsdale Santa Maria style, the wide range of adjustability makes reaching the perfect grate temperature simply easy to achieve. Cooking with the lid down will require knowledge of building a fire with the correct amount of fuel and air. I found it very easy to figure out, adjust and compensate to produce high quality cooks. Below are images from my first cooks.

Another observation I have is cooking with a wood fire is much more enjoyable to me then charcoal briquettes. Get your favorite beverages and hang out around the nice warm fire with friends and family and enjoy your get together. It doubles as a fire pit.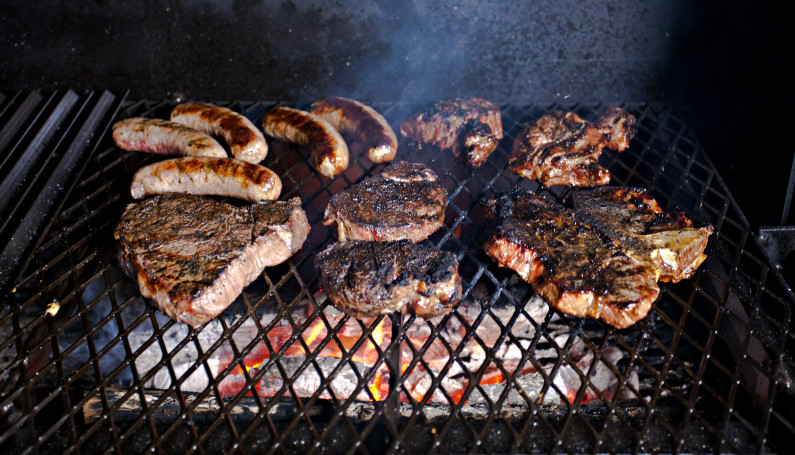 Amazing Burgers!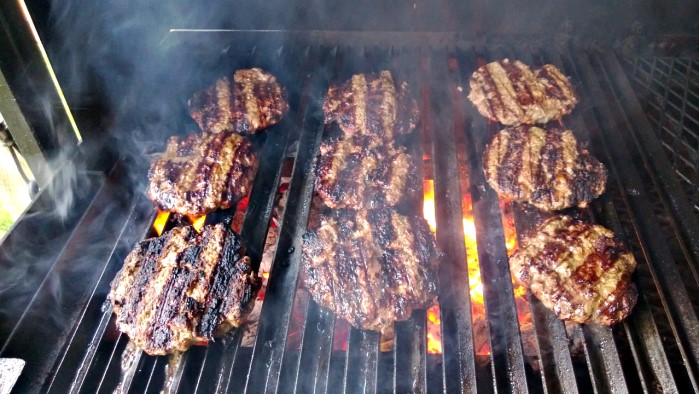 Favorite Design Features
Living in the rainy state of Washington I have to say the lid is a great thing. This keeps rain water out and will extend the looks and life of this cooker.
The lid and wind break are removable to transform the cooker into a full open face Santa Maria style cooker.
Little fuel is required to maintain BBQ temperatures.
When grilling you don't have to exact on amount of wood burned. There is enough grate adjustment to make up for a hot fire or a low heat fire. The grates can be lowered right on top of the coals if need be. This is a good thing if you have a small cook and want to save on fuel.
Ratcheting grate locking mechanism is easy to use and works quite well.
I'm a big fan of the Argentine style cooking grates. They catch fat and grease and channel it away from the fire and into grease trays. This keeps the grease & fat from burning in the fire and expelling the smoke onto your foods.
Who wouldn't love the flexibility of using a cast iron wok, skillet or griddle to cook some additional sides like sautéed shrimp and mushrooms or even cooking breakfast.
It's built like a tank and built to last.
Cons
Before opening or closing the hood you must make sure the grate level is below the top of the firebox. Due to the addition of the hood and the ability to raise the grate up into the hood a slot had to be designed into each side of the hood. This allows for the grate to be raised with the hood closed. This does have advantages such as raising burgers with cheese up into the hotter area and away from the coals to melt the cheese. I was aware of this and didn't let it deter me. Once I started working with the pit making the adjustment was second nature. Although I don't like it in all fairness it's not a big deal at all. Every pit has it's own set of things you adjust for and so far this is the only one I have found. As for the hood, I find it a must have for keeping weather out and for the added functionality it brings to my cooking experience.
The Scottsdale Build
The following are the actual build pictures of the Scottsdale as it was being fabricated for SmokingPit.com.
The new Scottsdale Cover
The new cover for the Scottsdale by Arizona BBQ Outfitters. I was surprised in the quality that went into this cover and really like the full length Velcro seems on each side. They really make putting this thing on a breeze. It's an all canvas construction with ample eyelets around the bottom so one can use bungees to secure it and keep it from becoming a kite in the wind. In fact it comes with bungee cord and hooks so you can cut them to fit. I find this another nice touch.
This video is an introduction to the new Scottsdale by Builder David Gonzales of Arizona BBQ Outfitters. David discusses what makes this the most versatile Santa Maria style cooker on the market. Great features like the ability to change up the cooking configuration to allow for cooking on standard grates, argentine grates, skillet or wok. That's a versatile cooker!
Intro Video by David Gonzales of Arizona BBQ Outfitters
Produced by SmokingPit.com
The Scottdale Introduction Video
Updated 3/20/2013 8:00 PM
Burning In & Seasoning the Scottsdale
Updated 3/22/2013 11:30 PM