Rob, Smokingpit.com/you have been an inspiration to me since I purchased my pellet smoker nearly a year ago. I think that I have tried every recipe that you have on your site and have honestly not been disappointed once. You not only provide guidance for new smoker owners (like myself), but you provide a truly family oriented function in this hectic day and time we now live in. It's kinda nice to have my son, father or other family member come over and participate in something as simple as preparing a nice meal. Family time has pretty much gone by the wayside, but you have provided a way for people like myself to spend a little quality time with loved ones. As I raise my tumbler high in the air, I salute you and the other viewers that take advantage of this simple called smoking/cooking. Merry Christmas and a wonderful New Year to all.

Guy Garfield
My new grill the "Maxtailgator"
Max
My name is Chris I live in Wichita KS. That makes it very nice for me to run down to All Things BBQ and lode up on all kinds of goodies. Here is a pic of me rais

ing my favorite beer Boulevard Smokestack Series Tank7 beside my Yoder 640. We also have three turkeys on the smoker in this pic that were treated with

Mad Hunky brine. We love are Yoder and your web site we have try lots of your recipes and tips. The videos make it very helpful also. Keep up the good work!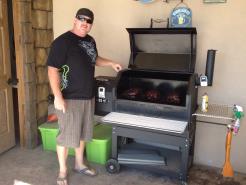 Hey Rob, I just wanted to thank you for all the support and great ideas you have given me!! The Yoder pellet grill has been my best purchase yet, I love this machine, it is built like a tank and built in the USA!! Here is a pic of myself and the Yoder on super bowl weekend. I smoked 24lbs of pork shoulder, (injected with cherry Dr. Pepper of course) 60 ABT's, 20 stuffed shrooms, 6 sausage links and smoked some home made mac-n-cheese with bacon. All this was done on the Yoder, this thing smoked for 18 hours straight.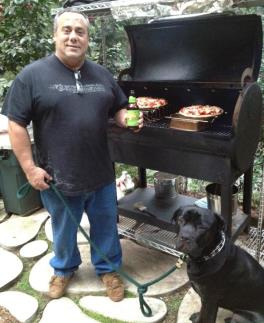 Randal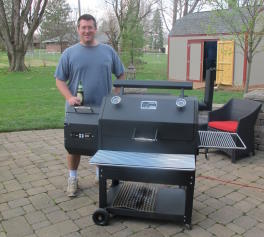 I love checking out Smokingpit.com to see what wild and crazy things are going to be cooked next! I also check it out to get cooking tips and methods on how to cook different types of meat! I love cooking on my Yoder YS640 because it consistently puts our great food time after time. Some of my favorites are Pork butts, Ribs, Stuffed Pork Loins, Sausage balls and Did I mention YARD BIRD!! All parts of that bird as well.... One more reason why I love my Yoder YS640 is because it puts out a steak like you have never tasted before!!! When you direct grill it takes grilling to the next level!! Sit back, get your favorite drink and BBQ away!!

Brian
aka barkonbutts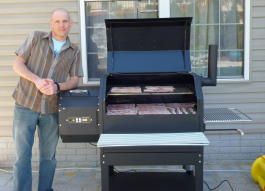 I just wanted to stop by and say I purchased this Yoder in
hopes of finding a good cooker to enjoy for years to come. Let me tell
ya, I FOUND IT! Yoder has out done themselves on this cooker. Built
like a tank, holds temp like a pair of vice grips, very spacious and
super easy to use. All I had to do was set it and forget it. Thank you
for all the hints and tips on your site concerning this cooker and
thank you for all your help when I asked you questions. I am one happy
Yoder owner and the customer support from Don Cary at All Things BBQ
is amazing he is a great guy and very supportive of his product. I
would recommend this cooker to anyone and everyone that wants to get
into Pellet Smokers.

Semper Fi,
Mike Cowley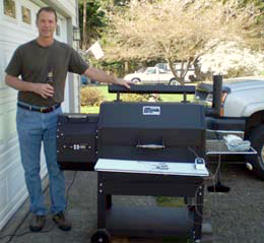 Whenever I'm browsing the Internet, I always visit smokingpit.com.
Rob's website has some great information for beginners like me.
At smokingpit.com you'll find recipes, videos, reviews, and more. This
is the place I discovered the Yoder pellet cooker and where the local
dealer was located. Once I arrived at Foothills Fireplace and Grills in
Black Diamond, WA, I got to see all the pellet cookers I was interested
in. Nothing compared with the Yoder YS640 - I ordered it on the spot.
Thank you Rob for a great website.

Happy smoking,
Bryan
aka stogie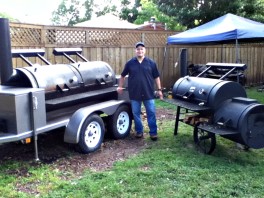 Hey Rob love the site and thanks for all the help you've given me in the past with my Kingman , I do almost everything on it with ease now. Here is a pic of me and my Frontiersman alongside the Kingman. Thanks Rob and your a true pitmaster in my book.

Richard Juarez
Fort Worth, TX