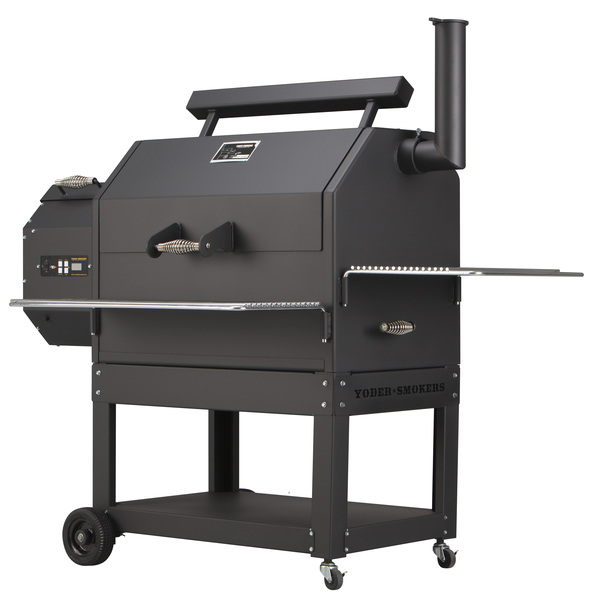 Yoder YS640 Pellet Fired Smoker & Grill
There are allot of pellet grills out there on the market but there is nothing that has the build quality or the diversity of the Yoder Pellet Smokers & Grills. High temp grilling, Baking, slow cooking and low temp drying for sausage and jerky are just some of this cookers capabilities. Granular control to 5 degrees adjustment up or down. Patent pending heat baffle that allows you to control the heat and establish heat zones within the pit. 10 Gauge steel construction makes this pit the heavy weight in its class. Experience the stress free cooking experience as you operate on auto pilot while producing food cooked to perfection each time. Backed by a 10 year warranty on the body, 3 year warranty on the electronics and a 1 year warranty on the igniter.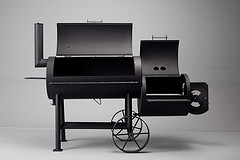 Yoder Wichita Wood Fired Smoker
For those of you who are hard core wood burners, this pit is a beautiful thing. Constructed of 1/4" steel this pit is built like a tank and does a great job of holding in the heat. You don't need a big fire to heat and operate this pit. The heat management plate keeps the temps across the grate from end to end fairly even and consistent. Controlling the temperature using this pit is no longer an issue. Once you become familiar operating the Wichita is a breeze.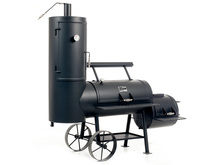 Yoder Durango Wood Fired Smoker
The Cadillac of Yoder wood smokers is constructed of 1/4" steel. It has two smoking chambers. One horizontal chamber and one vertical. The horizontal is for standard meat smoking while the vertical is great for lower temp smoking like sausage, jerky, bacon etc. This pit is extremely easy to control temps. It has a heat management plate that keep the temps across the grate from end to end fairly even and consistent. The first time I cooked on this pit I had no issue hitting my target temp and keeping it there.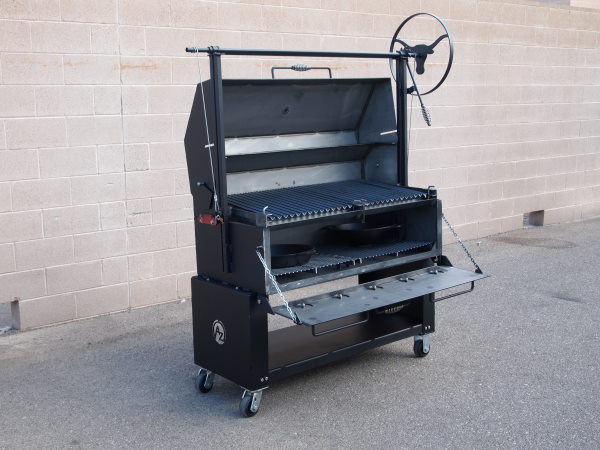 Arizona BBQ Outfitters Scottsdale
Santa Maria Style Wood Fired Cooker

I looked long and hard to find a builder of Santa Maria style cookers that could expand on the standard cooker and create a more versatile cooking system. David Gonzales from Arizona BBQ Outfitters stepped up to the plate and knocked the ball out of the ball field with this design. I provided input on what I was looking for and David brought everything to reality in a new build he calls the Scottsdale. I was very impressed to say the least.

Amaze-N-Tube-Smoker
In my humble opinion this product provides the best bang for the dollar in the BBQ arena. It's fired by pellets and simple to use. Not only is it easy to operate it's dependable. Just fill with pellets, light and place in your gas grill hot or cold. Enjoy cold smoked bacon. cheeses, nuts or snack mixes. This unit can be used to supplement your existing smoker to provide additional smoke. This comes in handy with pellet smokers.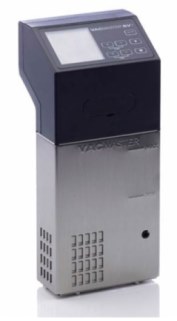 The VacMaster SV1 Sous Vide Immersion Circulator
Achieve high end steak house results in your own kitchen with Sous Vide cooking. The Vacmaster SV1 is an excellent choice giving you commercial quality & construction, durability, ease of operation resulting in consistent repeatable high quality results. All this at an affordable price for most. I have been using this for some time and it's been flawless.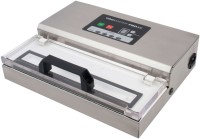 The VacMaster PRO305/350 Vacuum Sealer
Weighing in at 15 lbs. boasting a stainless steal outer shell, 12" dual seal bar and a dual piston vacuum pump, the VacMaster PRO305 is an all star contender in the vacuum sealer arena. It's build quality, ease of use and functionality make much more desirable then the competition. Details, specifications, functionality, HD videos and my opinion of this unit can be found on my the review page.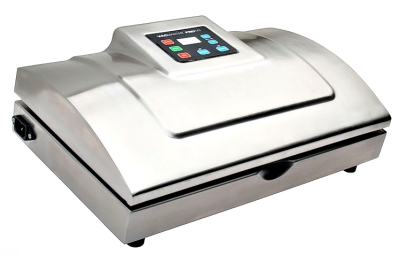 The VacMaster PRO170 Vacuum Sealer
Weighing in at 19 lbs and boasting a stainless steal outer shell, 15" dual seal bar and a dual piston vacuum pump, the VacMaster Pro 170 is what a Vacuum Sealer should be. It's build quality and functionality simply put makes it a leader in it's category. Details, specifications, functionality, HD videos and my opinion of this unit can be found on my the review page.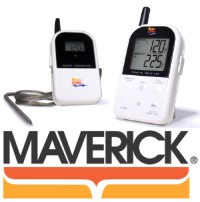 Maverick ET-73 Wireless Thermometer
If your looking for a wireless thermometer with excellent range, durability and accuracy you need not look further then the Maverick ET-732. Unlike the earlier ET-73 this unit has a long transmit and receive range. The specs say 300 ft but I can get a signal a block away (line of site). This is a full featured unit with Max temp thresholds for meat and cooker. Minimum thresholds for the cooker. It's a dual probe device that allows you to monitor one meat and the cooker temp or two meats. With tools like this you will never over or under cook a meal again!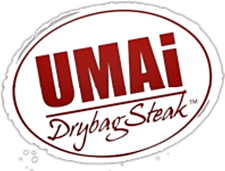 UMAi Dry Age Steak Bags
There is nothing like a 30 day dry aged steak. These steaks are found in high end steak houses and come at a price of $40 to $60 and that's just for the steak. Thanks to UMAi you can dry age steaks in your own fridge. Just buy a sub primal cut and place it into the bag. Vacuum seal it and place it into the fridge. As the meat ages the special bag allows moisture out, oxygen in but does not allow bacteria in. After you trim off the outer layer you are left with exceptional dry aged steaks that will be some of the best steaks you have consumed.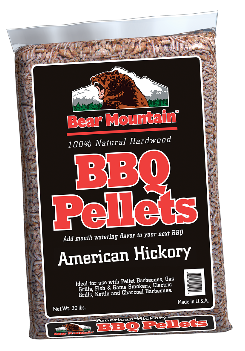 Bear Mountain Forest Products BBQ Pellets

I have burned all of the top brands of BBQ pellets available out on the market and have settled on Bear Mountain BBQ pellets. Quality was above and beyond all the primary factor and cost I found to be an added bonus in making the decision to rely on this product for all my cooking fuel needs. If your looking for great flavor, cost effective and clean burning with low ash residue, look no further.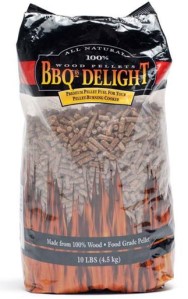 BBQr's Delight Wood Pellets
The pellets are a mix of Oak and flavored hardwood. The blend will provide ample smoke flavor to your cooks while not over powering the flavor of the meat. My all time favorite blend is a 50/50 mix of Pecan and Cherry. These pellets are clean burning and outside of the Mesquite, there is no issues with ash flying around and landing on your food. Most Mesquite pellets are ashy in general. If you can find these pellets locally I highly recommend them. They can be purchased directly from BBQr's Delight by the pallet. You must have a business address with a doc or a fork lift.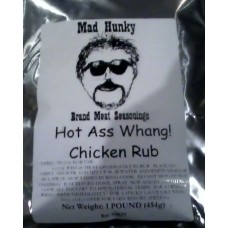 Mad Hunky Hot Ass Whang Rub
This is my product review of Mad Hunky Meats Hot Ass Whang rub. This is a prototype very limited early release for test purposes and the first review done on this product. I will show you the product in a cook.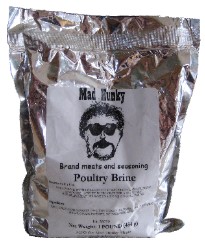 Mad Hunky Rubs & Brines
I have been using Mad Hunky products for over a year now and they are my go to rubs and brines. They tend to run lower in sodium the any other product yet they bring a full flavor profile to the table. The leader of the line up is the poultry brine. When you open the bag it's like smelling your moms Thanks Giving meal! The brine penetrates deep into the meat providing a robust flavor without over powering the flavor with salt. The Hot Wang rub will take your next batch of wings to the next level. The no salt rub tastes like the original rub but salt free. I use allot of this rub as it's the healthier choice. Mad Hunky has a product for every meat type or occasion.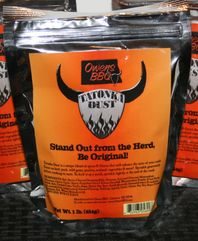 Tatonka Dust
I have used countless rubs let alone beef rubs. Most are average some above. I have found a few I really liked. Then I ran across Tatonka Dust produced by Owens BBQ I was pleasantly surprised how well it flavored a Flat Iron steak. I began trying it on other steaks including a 30 day fry aged steak. My last cook with it was a Tri Tip stuffed with Anaheim Peppers, Bell Pepper, Sauteed Crimini mushrooms, green onion, garlic and Provolone cheese. Got your attention? Read more and find out why Tatonka Dust is SmokingPit.com's #1 pick for beef.