Mad Hunky Meats has a nice set of Rubs, Cures and now this poultry brine. They are well know for their all purpose rub which is highly utilized and raved about in the Smoked-Meat.com forums. Rich the owner knows what he's doing when it comes to seasoning meats and has done an outstanding rub on his all purpose rub in general.
I have been using it for a couple months and it's the seasoning I grab when seasoning beef but I also use it on just about everything. When Rich offered to send me his new poultry brine I had an idea it would be good. I had no idea it would rise above the rest and make a hard core brining guy out of me. This brine gave me a new found love for brining poultry from the instant I opened the package and that's no joke!
What you will notice first hand when opening the bag is an amazing full blown smell very close to a complete Thanksgiving Turkey dinner. Instantly I was salivating and ready to eat! Rich had captured the herbs and spices found in the making of such a grand dinner that comes once a year for most and packaged it to be easily applied and used for poultry cooks throughout the year.
In my case the first use was with 2 large Yard birds. That's BBQ slang for chickens. I used 1/2 a package mixed with 8 cups of water and divided it up into two one gallon Ziploc bags. I placed a yard bird in each bag of brine, squeezed the air out and sealed them tight. I brined them in the refrigerator for six hours. Those were six long hours mind you because the smell was killing me!
Once through the brining process I thoroughly rinsed the yard birds and seasoned them up and smoked them. I didn't add much just some softened butter, fresh course ground butter and some Jack stack Seasoning. This was a very light amount. I rubbed the butter and seasoning under the skin over the breasts, thighs and legs. I then rubbed the outer skin and into the smoker they went @ 225 for about 4 hours until they reached 169 degrees internally. When the birds cooled a bit I had the first taste and was completely surprised yet again. The flavor was salty, savory and full flavored penetrating deep within the meat. The salty part was primarily the outer skin and the deeper meat was more herbal and savory. The funny thing was my neighbor came up and tried it and he too was very impressed. I sent some home with him and later his wife and told me it was the best chicken they have tasted.
Since then I have used this brine on skinless chicken breasts. They too came out amazing. When using breasts brining should be reduced to 2 to 3 hours.
New to the Mad Hunky Line is their Hot Whang rub.

Mad Hunky Meats has released new products. In addition to the Original Rub and Poultry brine there is now a pork brine and the new "Hot Whang" chicken rub. The "Hot Whang" chicken rub has been a big hit with folks in the forums and I personally use it allot in my cooks.
See why I use Mad Hunky products in my cooks.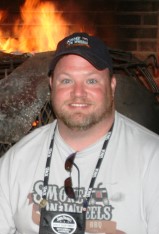 Rich's products are a great addition to your favorite foods and I highly recommend trying them. To add to the list of accolades, hear what 12x Grand Champion Andy Groneman has to say about Mad Hunky Poultry Brine.
With me it's not always about the product but about the product and the guy or gal behind it. In the case Rich of Mad Hunky Meats earned his own page within my site for such a stellar product line. See this recipe and smoke in HD video.


Mad Hunky Brine Tips & Tricks Video
Learn some tips on how to get the most out of Mad Hunky Brine while using less of the product while improving the quality of the brining process and reducing your cost. A must see video!
Way to Rock it Rich!
And to my viewers I say "Getcha Some!"