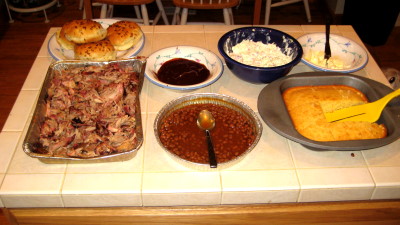 Welcome!
You have found your way to my Smoking meats, BBQ recipe and outdoor cooking site. I'm Rob Green of Tacoma Washington and have put together a multi media rich site aimed at sharing barbecue recipes, tips and techniques. There are many sites providing BBQ recipe information but this site is designed to bring smoking meats, grilling, Cast iron cooking and barbecue techniques and other recipes to you in high quality videos. Each video is shot in HD and shows each smoke from start to finish. The content of this site will be an ever growing multimedia library of all my smoking meat recipes, BBQ recipes and grilling recipes. This site also contains smoking and grilling tips, techniques, information and fun related YouTube streaming content. Here all the smoking meats and grilling is done low and slow over wood or wood pellet fire. The cookers used in my BBQ videos are a Yoder YS640 Pellet cooker, Yoder Wichita Offset stick burner and a Arizona BBQ Outfitters Scotsdale Santa Maria style wood pit. This site offer indepth information on recipes, tips, techniques and video to help you expand your cooking experience. For the most part, the information is universal and can be used for any smoker or grill. The smoking meat recipe videos supporting this sites recipe pages are produced and property of
SmokingPit.com
. All barbecue & smoking meat recipes have ingredients, instructions and a how to video to give you details on how to prepare, and smoke meats. Take smoking meats and BBQ to the next level. Navigating this site is simple, just click the recipes link in the main menu. Scroll through the list of smoking meats recipes. Find the recipes your interested in then click on Hambone the pig on the right and he will open up the recipe page containing the ingredients, preparation, photos and a step by step streaming video of the entire process. Want to return? just hit the back button in your browser or click the navigation link back to my main BBQ page. On this main page you will find smoker recipes and related barbecue content. Check out my latest smokes in the featured smoke section below. See a recipe you like? Click on the rack of ribs located to the bottom right of each recipe. This will take you to the recipe page with preparation information, pictures and the start to end HD video of the smoke. Happy browsing my smoked meat recipes and may the "Thin Blue Smoke" be with you.
New to smoking meats or looking for out of the box ideas? You've come to the right place. I'm always researching new and different BBQ recipes, tips and techniques. I spend allot time in smoker and BBQ related forums, compiling the useful information to share with others on the journey to achieve the ultimate in smoked meats. If it can be smoked, it will and you will find it here. Nothing but great smoking, grilling & barbecue recipes. I plan on posting new smoking recipes a couple times a week as time permits. Every recipe will have a step by step instructional video. I won't just tell you, I'll show you how I prepare and smoke meats in HD video! Get your popcorn and kick back and enjoy the show!
The following are featured smoked meats, BBQ recipes and grilling recipes, some of which may be recipes and or some video footage of my latest smokes. All recipes will have Peppy the Hot Jalapeno present to take you to the recipe page. Just click on Peppy and your of to great smoked barbecue.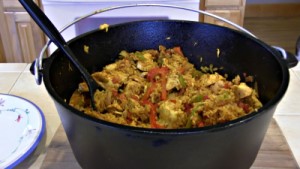 Dutch Oven Arroz Con Pollo
Arroz Con Pollo has always been a favorite of mine. It means chicken with yellow rice. Loaded with onion, red bell peppers, Anaheim peppers, rice and chicken. This is a simple dish to make that is full in flavor, has great colors and textures. The chicken ends up fork tender and amazing in flavor. The actual cook time is 30 minutes.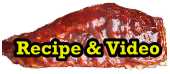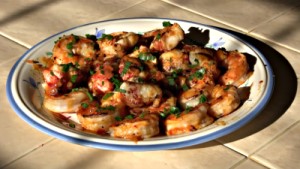 Mango Thai Chili Glazed
Shrimp & Lobster Tail Kabobs
Colossal shrimp and lobster tail on skewers mopped with a Mango Thai Chili sauce and grilled over an oak wood fire. If your looking for a shrimp dish big in flavor with a nice kick of sweet & heat you have to try this. Not only is it tasty but its easy to make and grills in less then five minutes.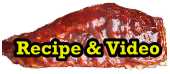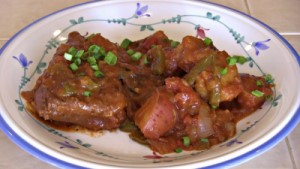 Dutch Oven Swiss Steak

This is one delicious and hearty meal! Top Round Steak tenderized and covered in San Marzano style tomatoes. Mixed in are sweet onions, bell pepper, garlic, Baby Bella Crimini mushrooms, red potatoes and red wine. Slow cooked in a 12" 8 quart Lodge Dutch oven over a wood fire. The steak will be fork tender and the flavor will be amazing.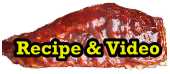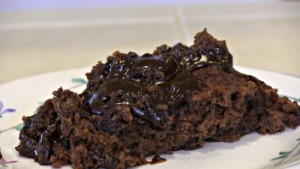 Dutch Oven Chocolate Pudding Cake
Chocolate Pudding cake recipe cooked in a 10" Lodge Dutch oven in my Scottsdale Santa Maria style wood pit. This one's for the outdoor cooking enthusiasts who love chocolate desserts. Actually this is more or less pure chocolate bliss. Watch as the chocolate bubble to the top like chocolate lava!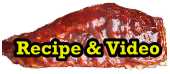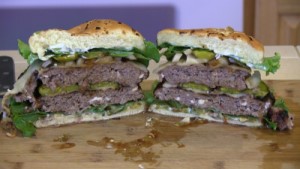 Blue Cheese Mushroom & Swiss Buffalo Burger
The Blue Cheese Mushroom & Swiss Buffalo burger is gourmet hamburger loaded with blue cheese, garlic, chives, mushrooms and sweet onion. Grilled Santa Maria style over a Oak wood fire on the Scottsdale by Arizona BBQ Outfitters. This gourmet burger will put a big smile on your face.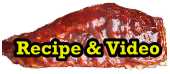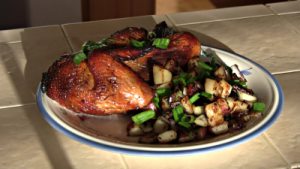 Orange Chicken with Garlic Red Potatoes

This recipe will produce a full flavored chicken with perfect skin, texture and fully cooked but super moist meat. The chicken was cut in half and soaked overnight in a orange juice, soy sauce, honey, garlic and rosemary marinade. As a side we cooked garlic red potatoes with green onion, rosemary and red pepper flake. Potatoes were cooked in a Lodge cast iron skillet on the Scottsdale over a oak wood fire. Just look at the color of the chicken!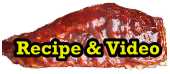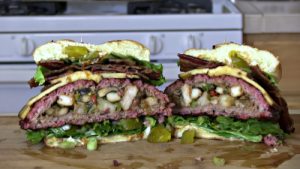 Trinity BBQ Surf & Turf Colossal Burger
Cajun style sauteed mushrooms, green onion, red pepper, garlic, ginger, Shrimp and Bay Scallops stuffed inside a 5" diameter beef patty glazed with Motor City BBQ's Trinity Sauce. Topped with Smoked Gouda and thick sliced bacon. What an amazing collection of flavors that come together in harmony with my latest Colossal Burger. This burger is mopped with Motor City BBQ's Trinity sauce. This sauce contains three of the worlds hottest peppers. The Trinidad Scorpion Butch-T, Bhut Jolokia and Habanero peppers. Keep in mind they use small portions of these peppers so the heat is not outrageously hot. It has a nice slow burn that builds over time and has a nice sweetness to it. I love this sauce. If you are looing for a sauce without heat try their original recipe sauce. It too has great flavor but without the heat.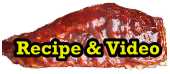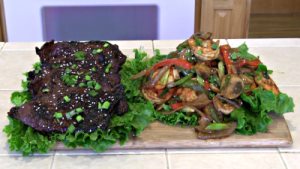 Sesame Soy Sliced Beef with a Spicy Shrimp Stir Fry

This is a delicious recipe that is fairly easy to make. Beef bottom round steak sliced thin and soaked over night in a sesame soy marinade. Grilled toperfection and served with a spicy shrimp stir fry cooked in a cast iron Wok for maximum heat for a top notch results. This is a msut try recipe!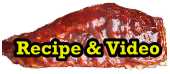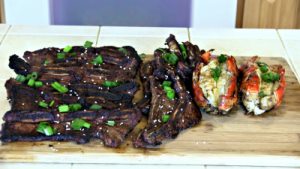 Kalbi - Korean BBQ Beef Short Ribs & Lonster Tails

Kalbi is Korean for BBQ beef short ribs. This recipe will guide you through the creation of an authentic Korean BBQ marinade for perfect Kalbi. Along with the short ribs I went for a Surf & Turf approach by adding Lobster tails in a Cajun butter sauce. Together they are heavenly and will not dissapoint.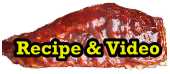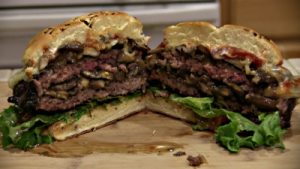 Mushroom & Swiss Colossal Burger
Big, thick, juicy and "oh so savory" is what you get with this burger. Two beef patties stuffed with sauteed Baby Bella mushrooms, green onion, garlic, rosemary and home style gravy. Add some mushrooms on top and melt some swiss on top of them. Sandwich all this between two onion buns with the condiments of your choice and you have a burger that is sure to please.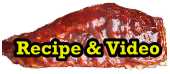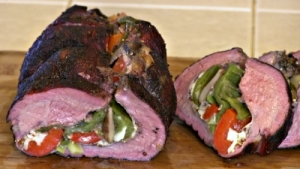 Mushroom & Pepper Stuffed Tri Tip
Seasoned with Tatonka Dust
This is an amazing Tri Tip Roast recipe. Sautéed Crimini mushrooms, green onion, garlic, roasted peppers and Provolone cheese stuffed into a tri tip then seasoned with Tatonka Dust rub from Owen's BBQ! Tender, juicy and just to darn good to pass up.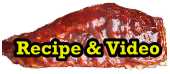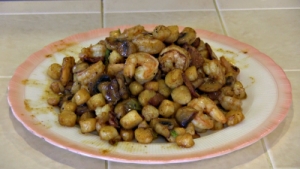 Cajun Shrimp & Bay Scallops
One of my favorite seafood recipes. Large shrimp and Bay Scallops coated in Mad Hunky Meats "Hot Ass Whang" rub. Mixed in with sautéed mushrooms, garlic, green onion and BACON in a Cajun butter sauce. This is a meal sure to please.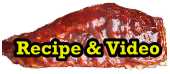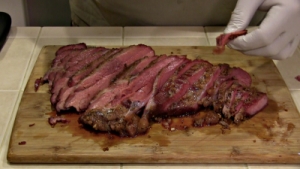 Sweet Sesame & Soy Marinated Tri-Tip Roast
Kicking tri tip up a notch or two. Honey, garlic, pepper, soy sauce and sesame seed oil all come together melding into an amazing marinade for two nice Tri Tip roasts. Slow smoked over 225 on a Yoder YS640 pellet smoker & grill. Don't miss the slicing at the end.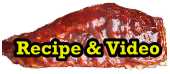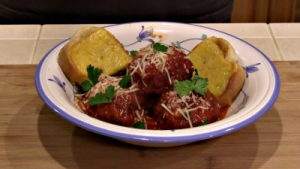 Apple Wood Smoked Italian Meatballs
with a San Marzano Tomato Sauce

Inspired by authentic Italian cooking, this recipe brings apple wood smoked savory beef and pork meatballs together with an authentic San Marzano style tomato sauce that is rich in flavor. That vacation to Italy may be a ways off but this recipe will bring a taste of Italy to you.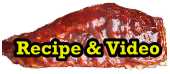 2 Great Tips for Beginners!
New - Direct Grilling using the Optional Grill Grates - See the char!
A new Yoder has fallen from the Heavens! A must read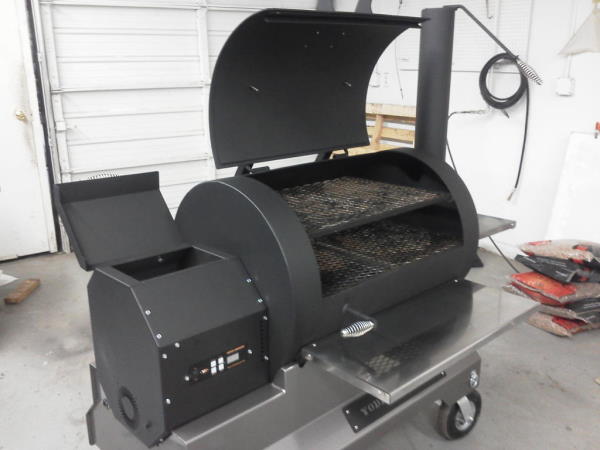 Join Me on a Tour of the Yoder Smokers Fabrication Facility
Tour the All Things BBQ store in Wichita KS.
BBQ champion Any Groneman is now teaching cooking classes on a BBQ and cooking on the Yoder YS640 in Wichita Kansas at All Things BBQ. I have attended 3 classes and found them to be very informational. Andy is a top notch cook, top notch guy and I can't recommend the classes enough.

Who is Andy Groneman?

Well, let's see, Head Cook Andy Groneman is a 14-time Grand Champion and winner of over 150 awards including;

2010 Jack Daniels World Invitational – World Pork Champion
2009 National Champion—Chest to Chest Brisket Invitational
2009 New York "Empire State" Grand Champion
2009 KCBS – Team of the Year -5th place
2008 Reserve Grand Champion—American Royal
12x Grand Champion and winner of hundreds of BBQ awards

Mad Hunky Meats Rub & Poultry Brine

Exciting news! Mad Hunky products are now available at All things BBQ! Visit attbbq.com and get your Mad Hunky products at a low price today.

Read my Rub & Brine review on Mad Hunky Meats Rub & Poultry Brine and find out why I believe I'm now a hard core brining guy when it comes to poultry!

Open the package of this poultry brine and the smell will take you back to your mom's kitchen as the Thanksgiving Dinner is being cooked. The flavor and smell is wonderful. The cost and ease of use is amazing!
The Stall - Myth busted!

We all experience the stall when slow cooking large cuts of meat. For folks new to slow cooking this can be a horrific experience as they crank up their cookers, check their Thermometers etc. We have heard many explanations as to why but now a physics guru explains why. This is a great read and I highly recommend it to all. Full Artical.
I have been planning some big additions to my site and media presentations. Here's what is coming soon!

We are now cooking on both a Yoder Pellet cooker as well as a Yoder Wichita. Check it out!

Note to all: Got something in mind you want covered or answered? E-Mail me with details on what it is and I will either answer it in my next live stream or host a live stream dedicated to covering the subject. This is a great opportunity for folks new to smoking to get answers and demos live! You can also ask the questions via chat window. Get registered at Ustream.TV for free!

SmokingPit.com Podcasts are now available via ITunes Store.
SmokingPit.com videos are now available via ITunes Store Podcast. From your PC or Apple device just open the ITunes store and search the podcasts for "smokingpit" then click down load. All Podcasts are FREE! Guy's if you get stuck waiting on a bench in the mall waiting for your lady, your saved! Watch some BBQ video to pass the time.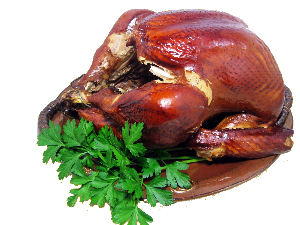 Brine your Turkey in Mad Hunky poultry brine for 12 – 14 hours. You can reduce the amount of brine used by brining in a Ziploc XX-Large storage bag and squeezing the air out and zip sealing it. Once brined, rinse and pat dry with paper towels. In a mixing Bowl combine 1 stick unsalted butter, 4 twigs of Rosemary peeled and chopped. ½ tsp Thyme, 4 cloves garlic chopped and a little pepper. Whip it up into a whipped butter. Lift the skin of the bird and pierce the membrane under the skin with your finger so you can work the butter mixture under the skin. Work it all the way down to the legs etc. On the outer skin apply a light coating of extra virgin olive oil. Apply some coarse ground black pepper and liberally coat with Mrs. Dash Garlic & Herb seasoning. Smoke @ 260 degrees until the internal temp reaches 170 degrees. Cook time is about 30 minutes per pound. I recommend 12 to 14 lbs. birds and doing two. Do not mist the outside of the bird. This will ensure the skin crisps up from the heat and oil.
Here's our turkeys as they went in the cooker. All brined up and seasoned.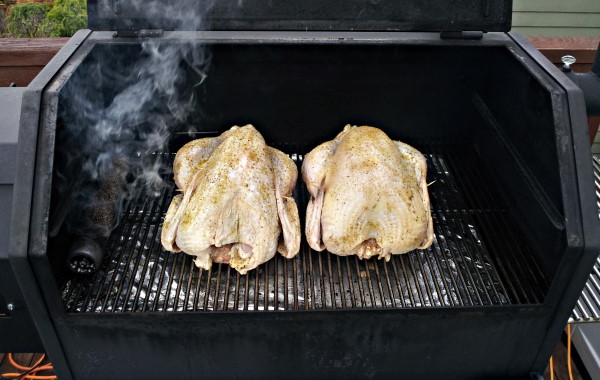 The turkeys after 1 1/2 hours of cooking in the Yoder YS640 using Hickory & Cherry.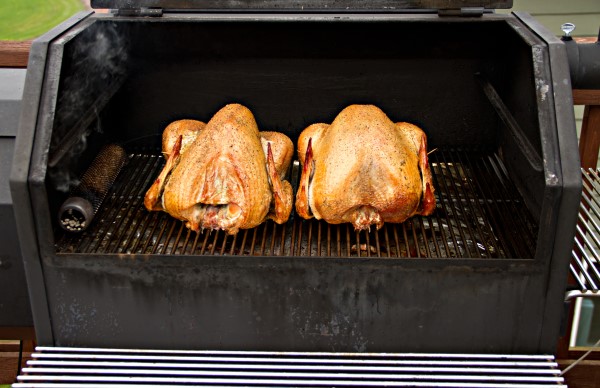 4 hours into the smoke and the birds are taking on a nice color and have reached 145 degrees.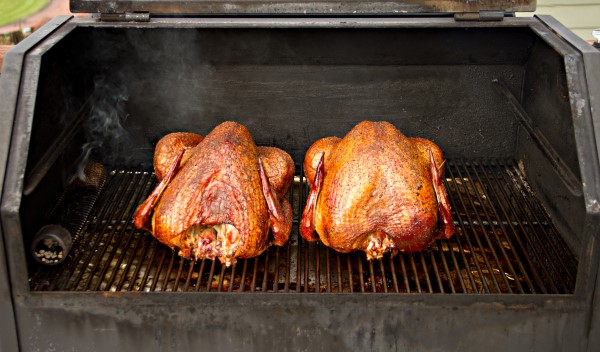 The final product! Both turkeys were amazing to say the least.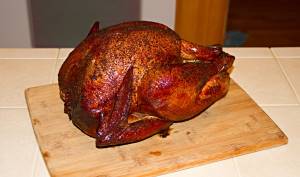 Happy Thanksgiving folks!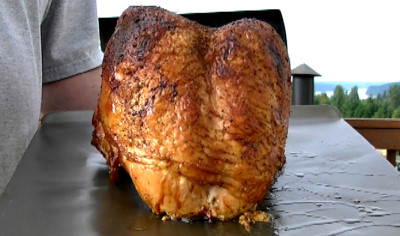 Safety first
- I recommend turkeys smaller the 12 pounds when cooking at 225-250 so they reach 140 degrees within 4 hours. If you need more smoke two or three. We all love the leftovers right? If you do smoke a larger bird you may consider doing so at 350 degrees or increasing to 350 after 2 hours. For the same reason, avoid stuffing the turkey as it will slow the time it take to reach 140. Another reason to avoid stuffing is more smoke can penetrate.
Cook Time - I like to smoke the turkey at a low temperature, between 225 and 250 degrees preferably 230 degrees. At this temperature the turkey should need at least 30 minutes per pound. Do the math and a 12 lbs. bird will take a minimum of 6 hours so plan ahead. This is another reason I like doing smaller Turkeys but two or three of them.

Always measure a Turkeys doneness using a meat thermometer. I use a Maverick ET-73 with a remote display that sits in my house. Very handy and this way I don't have to keep opening the smoker door to check. Check the temperature in the thickest part of the thigh and breast. The turkey is done when both readings are 165 degrees or higher. I prefer a breast temperature of 168 degrees. Once you have removed the Turkey from the smoker, let it stand for 15 minutes as it will continue to cook and the juices will redistribute. This should make for a flavorful and juicy bird like no other.
Tell me what you think...
I'm always interested in what you think of this site and content within. Or what's smoking in your smoker. Share your recipes that's makes your smoking a great success. Send me an email and I will post your comments on my comments page.
The Yoder YS640
Click Image to see larger Image.

Well folks I have on sight the new Yoder YS640 competition grade wood pellet fired Smoker & Grill. The cooker arrived from Wichita KS November 23rd and I have been running through a series of tests I like to perform. I have also knocked out some amazing slow cooks including Thanksgiving Day Turkey smoked with BBQr's Delight Sugar Maple pellets. Oh man was that one heck of a juicy bird! I am currently working on my full review. So far I have covered the intro to the YS640 and the startup process HD videos. The review page has allot of specifications and information on the new Yoder along with my observations to date. All testing has been done at low temperatures as this covers most my cooking. I am pleasantly surprised how consistent the temperature at grate level remains. I will be expanding my testing to higher temps as time allows. this review will be a work in progress and I plan on logging all of my smokes so you can see how much use the YS640 gets.
Yoder Smokers are a part of winning teams!
| | |
| --- | --- |
| | Read more on the new Yoder Pellet fired cookers below. |
| | Don Cary of Yoder Smokers is raising the bar for quality in pellet smokers. This is his first pellet smoker & grill prototype and it's sweet looking. From my last conversation with Don, this is a 480 sq. in. cooker but the size still is not set in stone. He is planning to start with 2 models in the YS480 & the YS640 (480 & 640 square inches). What you see here is a 100% Yoder build and Yoder quality including the pellet feed system and digital controls. Since this is the prototype, there will be some changes. One of which is the digital control board. The first board has a knob or pot for adjusting the temp and a digital display. The new boards will have a digital display with up down arrows for the controls to make temperature adjustments. These pits are built by engineers who cook! Made from 10-gauge steel the cooking chamber comes with a 10-year burnout warranty? I'm not aware of another manufacture with a warranty of this caliber. I have more specs and photos coming. This is why I will be cooking on a Yoder soon! Check out my custom Yoder smoker build by Don and his team below. |
All Things BBQ - Yoder Smokers Precision Heating & Quality Build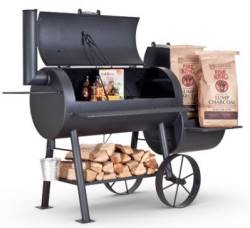 When it comes to precision heating and quality build, I suggest you look around and then take a good look at Yoder smokers. Don Cary is the owner of All Things BBQ and the builder of Yoder Smokers. Recently I have had the pleasure of working with Don and his team. Not only was I impressed with their drive to ensure customer satisfaction but they are deeply committed to building the highest quality smokers and yet affordable. It doesn't matter where you live in the US. All Things BBQ is postured to provide the best pricing & shipping and will have your new smoker on your deck in no time. I had a 400 lbs. Whole Hog cooker in my drive way in about 6 days! I have since received a Yoder YS640 and couldn't be happier with the quality of the product and the service. Don't let distance deter you from purchasing quality products. Give them a call and see for yourself. These are attributes that are slowly slipping away these days. And just look at this smoker to the left. It would look damn good on your patio now wouldn't it? Speaking of quality, how about their 10 year burnout warranty on pellet smokers bodies? You don't see a warranty like this too often these days.
Gas Grills, backyard smokers, Competition and New Pellet Smokers!


Don Cary
owner - operator
All Things BBQ
615 W. Douglas
Wichita, KS 67213
316.440.3950
don@atbbq.com
www.atbbq.com
If your looking for anything from gas grills, back yard smokers to full on competition or catering rigs, All Things BBQ has it! Not only do they have it but some of the best prices I have seen. All Things BBQ is owned and operated by Don Cary and they are located in Wichita Kansas. If your looking for a great deal on a smoker or grill check out their Yoder line. I have a buddy who cooks on a Yoder stick burner and swears by them. I personally have been cooking for over a month on the new Yoder YS640 wood pellet fired pit. I have over 20 smokes on it and just love the thing. Read my full review with HD videos. Give All Things BBQ a call or email and tell them Rob from SmokingPit.com sent you.



See their line up!
Foothills Fireplace & Grills
Recommended Yoder Smoker Dealer local to the Puget Sound!

30848 3rd Avenue
Black Diamond, WA 98010
Phone: 360.886.2277
Web Site

I paid a visit to Foothills Fireplace & Grills. Like allot of the combination fireplace, spa and Grill shops I expected to see an entire showroom filled with stoves and spas. What I found was a gem of a grill shop. Yes there is a nice stove section but the shop has a nice supply of Yoder smokers. On the floor was the YS480, Cheyenne, Durango and they carry the Wichita which they just sold. They also had the Green Egg and many Louisiana pellet cookers made by Dansons. It doesn't stop there. They had a nice assortment of fuels including a wide variety of hardwood flavors for your wood pits and pellets for your pellet burning pits. Also present were a assortment of accessories. It's not a big place and its down off the road but it's a gem of a grill shop. When I get my Wichita I know where to go for flavored hardwood including peach. A big thanks to Richard of Foothills for the tour and showing me the Yoder selection.
Watch my new how to Cold smoke video!
Watch the end to end process in HD video and pick up some tips on cold smoke generators, food preparation and cold smoking in general. Learn how to produce high quality smoked deli turkey, cheese and nuts within 4 hours. My how to cold smoke demo
The VacMaster Pro 170 Vacuum Sealer

Weighing in at 19 lbs and boasting a stainless steal outer shell, 15" dual seal bar and a dual piston vacuum pump, the VacMaster Pro 170 is what a Vacuum Sealer should be. It's build quality and functionality simply put makes it a leader in it's category. Details, specifications, functionality, HD videos and my opinion of this unit can be found on my the review page.



BBQr's Delight Pellet Fuel Review
I recently tested and reviewed the BBQr's Delight pellet fuel for pellet cookers. Ever noticed when using some of the big named brand pellet fuels that they all seem to be close not only in flavor but in smell when they are burning. BBQr's Delight pellet fuel breaks away from the pack. Read my full review on the product and see why BBQr's Delight is now the official pellet Fuel of SmokingPit.com


Maverick ET-732


The folks at Maverick ill be sending me their new ET-732 Digital Thermometer with wireless remote receiver/display. I will be cooking with the unit and evaluating it as soon as it arrives. There are some very promising tests out there already that demonstrate positive results with it's stated 300 foot line of sight range. I give you all an idea of what that is like transmitting through walls. I used the heck out of my ET-73 and really liked it. I expect the same out of their new unit. I'm looking forward to the arrival of the new ET-732. This will be an ongoing review. I will update it over time. Keep checking in for more information. Big thanks to Darren from Maverick!
ET-732 Information Sheet
www.maverickhousewares.com
What is the Smoke Ring and Why Is It There!
How to Get That Coveted Pink Ring With Your Cooking
by Joe Cordray
Slow cooked barbecue meats often exhibit a pink ring around the outside edge of the product.
This pink ring may range from 1/8 inch to 1/2 inch thick. In beef the ring is a reddish-pink and in pork, chicken and turkey it is bright pink. This pink ring is often referred to as a "smoke ring" and is considered a prized attribute in many barbecue meats, especially barbecue beef briskets. Barbecue connoisseurs feel the presence of a smoke ring indicates the item was slow smoked for a long period of time. Occasionally consumers have mistakenly felt that the pink color of the smoke ring meant the meat was undercooked. To understand smoke ring formation you must first understand muscle pigment. Read Article
Cast Iron Cookware Care
by DutchOvenCookware.com
Learn how to properly season and care for your cast iron cookware. This easy to follow information will extend the life of your cast iron cookware as well as improve its performance. Read Article
Spicing it up with seasonings, spices and rubs found healthier
by the American Journal of Clinical Nutrition 2010!

Results: Rosmarinic acid from oregano was monitored to assess the effect of cooking on spice antioxidant content. Forty percent (19 mg) of the added rosmarinic acid remained in the spiced burger (SB) after cooking. There was a 71% reduction in the malondialdehyde concentration (mean 6 SD: 0.52 6 0.02 lmol/250 g) in the meat of the SBs compared with the malondialdehyde concentration (1.79 6 0.17 lmol/250 g) in the meat of the control burgers (CBs). Read Article
Traeger Texas Product Review

Read my review on Traegers Texas! Find out what you need to know about this pellet smoker.
Read Review





The A-MAZE-N-SMOKER - Read my Product Review

Every now and then I run across a new product or design that is so simple it's amazing. If you have not tried cold smoking or doing so with this product I highly recommend it.

See what's smoking at SmokingPit.com
SmokingPit.com is all about sharing BBQ recipes, grilling recipes, tips, tricks and techniques to preparing great smoked meats and barbecue! There is nothing difficult about smoking meats. Smoking meats can easily produce amazing results with proper temperature (230 degrees), thin blue smoke and a good combination of rubs, spices and wood. All the information you need to start smoking meats is within this site. Good luck and may the thin blue smoke be with you.