When it comes to doing a review of any rub, seasoning or sauce type product, flavor is the a primary attribute to focus on. That said I like to look deeper then just the flavor. I like to go right to the folks behind the product as they are the roots to any successful product. Case in point, Tatonka Dust. Many of us in the Smoked-Meat.com forum have watched Tatonka Dust grow from a seed idea into a beta seasoning entering the hands of the public as a free sample specifically to obtain feedback from folks using it. This very feedback was utilized to mature the product prior to release. In my opinion a critical move in releasing a successful product into the market. It was crystal clear early on that Tatonka Dust was not only unique, but highly sought after as forum members who received samples simply wanted more. Well these products do not go live fast enough and folks had to wait. Even then free samples went out to folks so they could try the product. This is what makes Owens BBQ a top notch service provider. Another gold star I must give to Owens BBQ as far as service, is the quick shipping. They get that you want to get to cooking with their product and they get it shipped out to you quickly. Allot of other suppliers could learn allot on this subject from Owens BBQ. Purchasing the product is a snap. Just navigate your browser to their online store @ www.OwensBBQ.com and click on products button. Select your product and quantity and add to cart. Payment is via secure PayPal transaction so you don't have to provide your credit card information.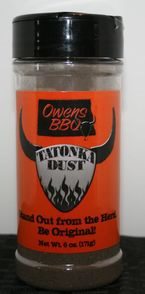 Now you have read my opinion of the owners Tanya & Marty as well as the company and service provided. Let's discuss the product itself. Tatonka Dust is available in either a 6 oz. Bottle, 1 lbs. bag or 3 lbs. bag. I try not to list prices as they are subject to change at any given time with no notice to me. I will state that as of today a 1 lbs. bag sells for $19.95. This may seem a bit expensive for a pound of rub but I also noticed I use about half the amount as other rubs so a one pound bag will last you. The one pound and three pound bags come with a built in Ziploc type sealing strip so your rub will always be fresh when you use it. The visual make up of the rub resembles fine ground pepper but it does not smell like pepper at all. I have a hard time explaining what this rub smells or tastes like to be honest. I can taste the salt, garlic and powdered Worcestershire and another flavor I like but cannot, for the life of me, identify. What I will say is that when it comes to beef, Tatonka Dust is my #1 go to beef rub going forward.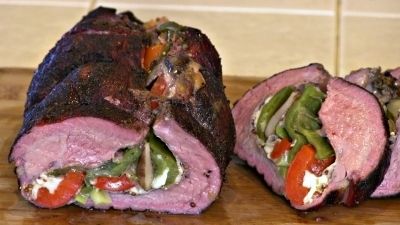 An example of the quality was prevalent in my last cook. I wanted to seriously take Tri Tip to the next level. This is a feat in itself as everyone is cooking Tri tips these days. I decided to butterfly a Tri Tip and load the inside up with roasted Anaheim pepper, roasted Red Bell pepper, sautéed Crimini mushroom, Green onion, garlic and Provolone cheese. I tied up the Tri Tip with butchers string to hold all the goodness inside. When it came to framing this work of art I knew I had to go full tilt boogie and use only what I consider the best. I gave my Tri Tip a liberal rub down with Tatonka Dust. When it came time to remove that roast from my cooker the smell leaching out of the door was intoxicating. What can I say... I'm a lover of quality BBQ! After the Tri Tip rested for 45 minutes I began the carving process. The Tri Tip was super moist and smelled so good. The meat had great color inside and had a blackened look on the outside giving the perception of high contrast between the two colors. The flavor was incredible to say the least. The following day I server reheated left over's to folks at work and received nothing but accolades including a comment stating it was like high end restaurant quality food. Cooking skill, technique and the cooker had allot to do with the success of the cook. That said it just wouldn't have been the success that it was without the use of Tatonka Dust.
That right there folks says it all. I could go on but I won't. Here's the video... You have seen the pictures above... I highly recommend trying Tatonka Dust at least once on beef. Available @ OwensBBQ.com
Tatonka Dust Product Review


Tatonka Dusted Mushroom & Pepper Stuffed Tri Tip