UMAI - Dry aging steak bags.
Now that you have an idea of how the process works for the steak houses, lets do the same thing using a moisture permeable bag. These are special bags that allow moisture to escape, oxygen in and keep bacteria out. This allows you to dry age beef in your own kitchen, in your own refrigerator.
Step 1 - Purchasing the Meat.
You will be buying a larger sub primal cut of meat. In this case I chose a 12.3 lbs. Loin Strip. The cost was 8.99 per lbs. and about $100 out the door. Yes it sounds like allot but you will get about 6 amazing steaks at a final cost of about $18 per steak. Keep in mind the steak houses will ask $35-$45 for the same steak. We are going for amazing flavor here and in my opinion well worth the time and money.
Once you have your sub primal cut you need a dry age steak bag and a vacuum packer. Enter UMAI Dry bag Steaks.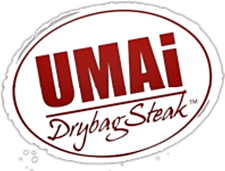 I stumbled on UMAI while doing some research on dry aging beef. I contacted the company and spoke with Thea Lopatka president and CEO of UMAI Dry bag Steaks. Thea was wonderful to work with. I requested some steak bag samples and received not only the bags but a 2400 series FoodSavor vacuum packer. Thea sent me their starter kit. I found it fascinating that they thought enough to put together a complete kit for those who do not own a vacuum sealer. The kit is turn key with everything you need to get started dry aging meat.
This kit includes:
UMAi DrybagSteak Bonding & Aging Instructions
For Creating the Ultimate Dry Aged Steak
2 UMAiDry Roast (Small) Size
Dimensions: 10" x 20" / 250 x 500 mm
2 UMAiDry Subprimal (Standard) Size
Dimensions: 12" x 24" / 300 x 600 mm
2 UMAiDry Practice pieces
Dimensions: 10" x 11" / 250 x 275 mmm
1 FoodSaver 2400-series advanced design channel vacuum sealer
8 UMAi VacMouse™ adapter strips for use with FoodSaver-type sealers.
Features: Automated sealing with channel vacuum bags, two speeds, two seal levels, built-in roll holder and cutter
Includes: 1 11" x 10' FoodSaver roll 3 FoodSaver quart bags 2 FoodSaver gallon bags 1 accessory hose with storage clips
My Videos
I put together two videos that demonstrate the process end to end in HD. The 1st video demonstrates the vacuum sealing process and storing of the meat. The 2nd video demonstrates the un-packaging and trimming of the aged meat 30 days later. I also show you the cooking process and eat some steak in HD. Sorry, I had to provide my honest opinion of the results.
Step 2 - Vacuum Sealing and Storing
Once you have purchased your sub primal cut you will need to open the cryo pack and drain the meat juices. This is a good time to discuss cleanliness. You don't want to introduce bacteria to the meat if at all possible. I highly recommend not only washing your hands but wearing food grade latex gloves and changing them if you touch counter or sink surfaces. At this point we need to get the cut of meat into the large UMAi bag. The preferred method by the manufacturer (called the clean transfer method) is to rinse the outside of the cryo bag. Roll 4 inches of the UMAI bag back at the opening. Insert the cryo pack and meat into the UMAi bag. Once it's all the way in you can pull on the end of the cryo bag and slowly pull it out leaving the sub primal cut in the UMAi bag. Here is a YouTube Video demonstrating the clean transfer process.
This looked great on video. However, in my case I had a sub primal cut that had allot of juice in the cryo pack. I drained it as best I could. When I attempted to vacuum pack the juice was sucked up into the vacuum packers suction channel and well, The seal failed twice on me. I ended up laying the meat out on a clean cutting board. I always clean my cutting boards with a cleaner with bleach then thoroughly rinse. Once the meat was on the cutting board I opened a fresh roll of paper towels and pat dried the primal cut removing the excess meat juice (blood).
I then slipped the meat into the UMAI bag. From here both processes merge into one where you distribute the meat to the lower corner and to one side of the bag. Next you lay the meat and bag down and trim the end of the bag so there is about 5 inches of bag past the end of the meat. Keep in mid if you used the clean transfer process you have rolled out the bag and trimmed it. Next you wipe clean any juice that may have gotten on the opening of the bag. We want a good seal. Nest step is to use a vacuum mouse provided in your dry bag steak kit by UMAi. This is inserted flush with the mouth of the bag and the mouth of the bag is placed in the center of the vacuum channel of the FoodSaver. Lower the lid and lock it in place. Press Vacuum & Seal. The FoodSaver will begin to draw out the air. In my video you will see that I press the vacuum & Seal button to stop part way through. This gave me time to smooth out any wrinkles or trapped air in the bag. I then hit the button again to continue drawing out the air. Once the air is out of the bag it will seal the bag. I highly recommend that once the seal is done you line the opening with the sealer section and log the lid down and press seal to create a second safety seal. We want to make sure this bag stays sealed.
Now its time to prepare your fridge for storing this sub primal cut of meat. Pic a rack and empty its content enough so the meat will rest on the rack without anything touching it. If you have solid shelves you will need to place your meat on a wire bakers cooling rack elevated at least 1 inch off the shelf. This will allow air to move under and around the bag which is extremely important to the process. This allows moisture to escape and oxygen to enter.
From here its patience. I left my Loin Strip age for 30 days. What you will notice is that the meat and fat will turn dark in color over time. It will not stink up your fridge. Try not to disturb it and just let it do it's thing. You need to check the bag after several hours and make sure it's still holding vacuum. Since the bags are designed to release moisture your meat will decrease in weight over the duration of the process. The meat will develop a dark leather like outer skin. This is normal and don't be surprised if your meat looses 15% - 20% of it's weight during the process.
Step 3 - Trimming & Cooking - 30 days later
By now your going bananas! At least I was. I got my cutting board, Meat, latex gloves on and a sharp knife. After all that waiting it was time to trim off the outer crust and expose the flavorful tender meat hidden underneath. The removal of the crust was simple at just required a little time. Once the crust was off and the meat underneath was exposed I was pleased to see the meat looked great and smelled great. I could tell the texture of the meat was different from the normal store bought meat. It seemed a bit denser. I cut the aged sub primal into steaks which I coated with some Tatanka dust. This is a seasoning a fellow forum user of Smoked-Meat.com smoking meats forum came up with. They are in the process of having it packaged so its not readily available at this point. It's an amazing blend of seasoning so I had to use it for this test. For test purposes I cooked only one narrow but thick steak. The others were seasoned and vacuum packed for a later date.
When cooking steaks you should always let them sit wrapped in butcher paper for 1 hour so they warm close to room temp. You don't want to grill cold steaks. I grilled my test steak on my Yoder YS640 using the direct grilling method and the GrillGrates. My wife wanted a taste so I didn't get my normal medium rare steak. It had to be well one. That said, I was amazed even at well, how tender and easy to chew the steak was.
The first bite really put a smile on my face. The flavor was a much more bold beef flavor yet the texture was very tender and easy to chew. Immediately I thought of some of the very expensive steak houses I have eaten at from time to time. Emphasis on time to time as I find these steak houses above my budget. With each bite I was more and more convinced that the UMAi dry age bags are the wholly grail of dry aging steaks.
How good was it? When the steak was gone I found myself starring at the juice left on the cutting board. There was no way I was going to waste that heavenly nectar. I got me a hoagie roll to soak up every last drop and the effort was well worth it. That's how good it was!
As I stated earlier, the support I have received from UMAi has been outstanding. They have been quick to answer any of my questions and concerns as well as point me to additional reference information within their site to make my experience a trouble free and fun one. Here is a link to the UMAi video page within their site that contains videos and information related to tips and best practices.