Disclaimer: The information provided within this page are my opinions of the product over time. It's best to check back if your interested to see what my thoughts are after I have owned and used the product a while. The reason I say this is only allot of use and time will tell just how well a product holds up.
In the beginning: In order to cater to the likes of a diverse group of folks and cookers I decided to expand from lower cost wood burners to competition Grade Pellet smokers. This went over well with the pellet burning folks. I also want to keep my site diverse and have something for the stick burning folks.
Since the quality of my Yoder YS640 was above and beyond my expectations my final decision was to Bring on the Yoder Wichita. This is more then what I really needed but it's always one of those things where you get the smaller model and then later you wished you bought the bigger model. The Wichita it is. I could not stop there. The pellet smoker made me enjoy less hassle with cooking so I looked into heat management systems. The Stoker and Guru were the top two that I considered. After some issues figuring out the sizing I have decided on the Guru CyberQ II with dual 25 cfm fans. This model has the ability to interface directly with your PC. The guys at BBQ Guru have been great and Don Cary of Yoder Smokers has been as always exceptional to deal with.
Well the Wichita arrived and I seasoned the pit. After playing around to get a feel for it I soon realized this pit was so efficient and easy to maintain target temp, I removed the Guru and have never used it other then watching pit temps.
Build Quality
The build quality of the Wichita is amazing. It's constructed of 1/4" x 20" pipe and boasting some great looking welds. The cooker is extremely heavy yet easy to move around with its large steel wheels. The racks are made of expanded metal.
The Wichita can be purchased with an optional second rack as well as a heat management plate also made of 1/4" steel. I highly recommend these options. Also available as an option is a log lighter that runs of of LP gas.
Heat Management & Control
The key to quality meats is maintaining an efficient fire and correct temperature for your cook. I use Wicked Oak lump charcoal as a base fire. The Wichita is built using 1/4" thick steel. It does a great job of holding temp. You don't need to build a large fire. Start with a chimney of lump. Use a weed burner torch to get the lump lit. Do not use charcoal lighter fluid or any other accelerant. Once the lump is going good I put on a couple sticks of flavored wood. I tend to like Orange, Peach, Cherry and Pecan. I run the stack damper wide open and the firebox wide open until the pit reaches 200 degrees then I close it 1/2 way. If you over shoot at this point you can let the fire die down and use a bit less wood, Also keep in mind as the pit is running through out the cook you can add more lump and less flavored wood. After the meat reaches 140 degrees it won't take in much more smoke. When your fire is most efficient the smoke leaving your pit will be of thin blue color.
The Wichita has a optional heat management plate that I highly recommend. It has a series of holes drilled in it that get larger the further away from the fire box. The side of the cooker next to the fire box will always be hotter. The heat management plate reduces this affect and evens out temps across the pit. Nice touch Yoder.
I run my fire so it reaches 245 - 250 degrees then as the fire burns down I add more wood and or lump when it reaches 215 degrees. This is a 35 degree fluctuation which is pretty darn good. By using this method I do not have to mess with the damper on the firebox once it's set the first time.
Food Quality
Once you master your fire you will put out some amazing food with this pit. Use your imagination because this pit is very versatile and will do everything from low temp, slow cooking, baking and even Pizzas @ 450 degrees. I will tell you wood fire cooked Pizzas off the Wichita are simply put, taste bud rocking pies! Keep in mid the amount of smoke flavor in your meat is controlled buy the efficiency of your fire and the amount of flavored hardwood you use. Some don't like a strong smoke flavor so just increase the amount of lump and reduce the flavored wood. It's that simple.
Warranty

The Wichita comes with a 75 year warranty on the body. Better write it into your will!
Where to purchase
This competition grade stick burner can be purchased online from All Things BBQ. Tell them Rob sent you.
Quality of Service
Hands down All Things Barbecue and Yoder Smokers have been a joy to work with. When I know the guys behind the company really care what customers think and are willing to do what it takes to make the customers buying and BBQ experience a pleasant one, well they get my vote!
First Look at the Yoder Wichita

Yoder Wichita
BBQ Guru CyberQ II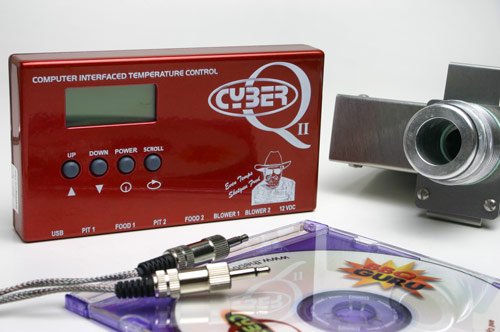 Smoke It... And they will come!